THERE ARE 7 FULL LENGTH TREVOR JOSEPH NOVELS AND ONE QUICK READ FOR DETAILS PLEASE SCROLL DOWN
Catrin Just finished reading your first novel without a trace Trevor Joseph without a shadow of doubt a fantastic read I was so enthralled just couldn't put it down and the twist at the end was just unexpected. Loved it. Looking forward to reading more of your novels. Thank you Joslyn x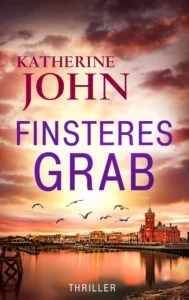 MY ALTER EGO KATHERINE JOHN'S, TREVOR'S JOSEPH'S NEW DOT BOOKS GERMAN EDITION JACKET FOR MIDNIGHT MURDERS – MORE TREVOR JOSEPH'S TRANSLATIONS TO FOLLOW
SCHONE DANKE, DOT BOOKS
Without Trace – Book One in the Trevor Joseph series – click on jacket for Amazon page #ad
In the chilly half-light of dawn a bizarre pierrot figure waits in the shadows of a deserted stretch of motorway. The costumed hitchhiker's victim is a passing motorist. The murder, cold-blooded, brutal. Without motive.
Doctors at the local hospital Tim and Daisy Sherringham are blissfully happy. The perfect couple.
When an emergency call rouses Tim early one morning, he vanishes on the way from their flat to the hospital and Daisy is plunged into a nightmare of terror and doubt…
Book jacket by steve@bookcovers.uk
REVIEWS – WITHOUT TRACE
… So intriguing . . . cleverly woven together and tensely written – Sunday Times. – The impending doom starts on the second page and grows in chilling intensity all the way – Liverpool Daily Post  – An interesting mixture . . . John is definitely a promise Financial Times – Chilling drama . . . a cracking read and impressive first novel. The final melodramatic twists and turns will surprise and appal Eastern Daily Press – A compulsive story with plenty of rewards for the reader and one of the most interesting mysteries I have read South Wales Evening Post – The plot twists and turns leading to a very unexpected climax . . . . Skilfully written with a strong story line and believable characters the reader's attention is kept throughout. An extremely promising first novel that should not be missed CADS
USA – A surprisingly sophisticated first novel . . . The author offers a tension-filled sometimes harrowing, stylishly written roller coaster ride of a story – Kirkus review (starred review)- Well-written debut . . .  John creates a sinister atmosphere especially in scenes taking place at a crumbling seaside pier, and she clearly knows her way around a hospital – Publishers Weekly- First novelist John amalgamates the best elements of a medical thriller and police procedural Library Journal – John's first mystery featuring Inspector Trevor Joseph pays off – San Francisco Bay Guardian
The following is an extract from Without Trace, written as Katherine John and published by Random House, paperback Headline,  St Martin's Press, USA, as Beze Stopy in Czech
EXTRACT
"The landscape behind remained unchanged except for a darkly wet slick of gore that slimed off the road into the undergrowth.  The gleam of gold on the eastern horizon intensified, lightening the sky to a translucent shade of opal.  Rain began to fall.  Slight at first it became a downpour as the morning progressed.  A heavy cleansing rain that washed away the traces of blood and flesh, diluting the red stain to a mark that might have been caused by anything.  Cars arrived and sped past in the traffic lanes.  Intermittent at first, they became a steady trickle that roared into a torrent with the advent of the rush hour.  The travellers who glanced casually out of their car windows never thought or wondered at the stain that marred the gravel on the hard shoulder.  But then they were the lucky ones.  For them journey's end was not yet in sight."
---
Midnight Murders – Book Two in the Trevor Joseph series
Compton Castle is a Victorian psychiatric hospital long overdue for demolition. Its warrens of rooms and acres of grounds, originally designed as a sanctuary for the mentally ill, now provide the ideal stalking ground for a serial killer.
Physically and mentally battered after his last case (Without Trace), Sergeant Trevor Joseph is a temporary inmate—but the hospital loses all therapeutic benefit when a corpse is dug out of a flowerbed. Then more bodies are found; young, female and all linked to the hospital. Everyone within the mouldering walls is in danger while a highly unpredictable malevolence remains at large. And, as patients and staff are interrogated by the police, the apparently motiveless killer watches and waits for the opportunity to strike again…
click on jacket for Amazon page #ad
REVIEWS – MIDNIGHT MURDERS
Excellent chilling drama – Manchester Evening News- This taut thriller must put the author in line to join the ranks of the great women crime writers of the Christie, James, Marsh ilk – Dorset Evening Echo – A real spine chiller – The Citizen (Gloucester)
USA- Imaginatively conceived, smoothly written and increasingly gripping John's procedural should attract and hold readers right up to its explosive conclusion – Booklist- John reveals a provocative sociological savvy – Kirkus reviews
---
Murder of a Dead Man – Book Three in the Trevor Joseph series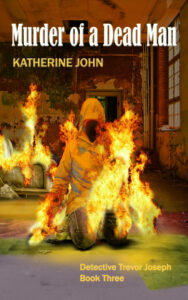 Jubilee Street—the haunt of addicts and vagrants is a part of town to avoid at all costs, especially when it becomes the stalking ground of a brutal and ruthless murderer.
A drunken down and out is the first casualty, mutilated and burned alive but his grisly death raises even more problems for the investigating officers, Sergeants Trevor Joseph and Peter Collins.
They discover that their "victim" died two years earlier. So who is the dead man? And what was the motive for the bizarre crime? While they seek a killer in the dark urban underworld, the tally of corpses grows and the only certainty is that they can trust no man's face as his own.
click on jacket for Amazon page #ad
REVIEWS MURDER OF A DEAD MAN
A chilling case . . . a fascinating mix of characters . . . plenty of twists and turns . . a compulsive story South Wales Evening Post- Rapidly building a reputation as a thriller writer Wales on Sunday
USA- This book moves rapidly and holds the reader's attention as it explores a very plausible medical experiment and its effect on the human psyche Benton Courier- John expertly weaves together information about the medical, psychological and procedural strands of this taut story of revenge and retribution  – Publishers Weekly – Series readers will be pleased and so will other fans of gripping detection Booklist
---
Black Daffodil – Book Four in the Trevor Joseph series -click on jacket for Amazon kindle page #ad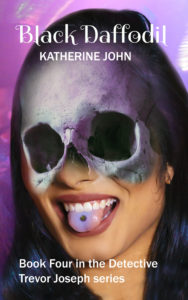 Inspector Trevor Joseph's superintendent, Bill Mulcahy, has more pressing concerns on his mind than Trevor, who has booked leave to be with his wife when she gives birth, to their first child.
A new and deadly synthetic drug, Black Daffodil has surfaced in Cardiff and the Welsh Valleys. Cheap and easy to produced it swiftly claims eight victims; Bill needs every experienced officer to penetrate the Cardiff drug gangs to track its source. But when the force's undercover operatives begin to disappear, only to turn up dead, Bill is left with no choice but to send in Trevor Joseph and Peter Collins, and within days Trevor wonders if he will survive long enough to see the child he and his wife so desperately want.
9 March 2015
Well written and exciting, this is what a thriller should be. I read the last couple of hours in one sitting- I had to find out who did it and was surprised by the ending.
25 December 2013
Brilliant yet again! The scenes are always so vivid it's like watching a film. Love seeing all the main characters unfolding in their personal lives. Love this series so much!
---
The Destruction of Evidence – Book Five in the Trevor Joseph series click on jacket for Amazon page #ad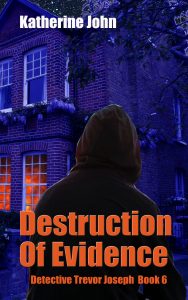 No evidence remained on the corpses of Alun Pitcher, a well-liked, wealthy, careful and cautious businessman and his family after they'd been wrapped in brown paper and string, doused in petrol and ignited. The fires had destroyed all forensic evidence, or so the pathologist and local police believe. Faced with an impossible task, the local force admit defeat and ask for outside help. Following their success in solving a previous "cold'" case, Inspector Trevor Joseph and Sergeant Peter Collins are called in.
Do the murderer or murderers possess knowledge of investigative forensics that have resulted in the perfect crime? Why would anyone want to kill popular family who had no known enemies? How did the killer or killers overcome three grown men and a woman without anyone seeing anything, or hearing a sound? And – has all the evidence really been destroyed?
Book jacket by steve@bookcovers.uk
29 November 2013
Yet another DetectiveTrevor Joseph book finished. I'm glad there are more to read. Good characters and good plot. Next book please.
29 August 2013
I only started this series of books a few weeks ago but can't stop reading them. Well written and gripping
A Well-Deserved Murder – Book Six in the Trevor Joseph series    – click on jacket for Amazon page #ad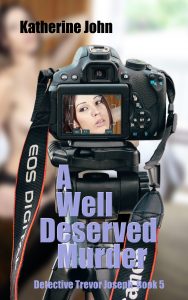 There will always be neighbours from hell. Some deserve to die, but most people stop short of murder. But when Sergeant Peter Collins sees Kacy Howell's axe-battered corpse, he asks himself if his cousin, Alan Piper, didn't. Journalist, Alan frequently complained about his neighbours who built a deck overlooking his patio and monitored his every movement. Under cover of darkness they stole his plants and building materials. When his gate disappeared he called in the police who advised him to put up a CCTV camera. Alan had a better idea. Civil servant Kacy Howell is amazed to suddenly find herself the centre of attention at work and showered with unprompted gifts of flowers, and discreetly wrapped sex toys. Her husband, George, is bewildered when a colleague shows him a pornographic magazine featuring Kacy, and then Kacy is found battered to death on the decking that overlooks Alan's garden. Inspector Trevor Joseph and Sergeant Peter Collins find themselves looking for the perpetrator of a murder, which Kacy's neighbours have already Christened 'justifiable homocide'.
Book jacket by steve@bookcovers.uk
2 July 2013
Kacy Howells is a seriously unpleasant woman. She bullies her husband, palms her children off on her parents and harrasses her neighbours. When her naked, bludgeoned body is found on the patio at the back of her house there are as many suspects as there are motives. Unfortunately for D.S Peter Collins one of these suspects turns out to be his cousin, journalist Alan Piper who had the misfortune of living next door to the victim with whom he had a long running feud. Peter is taken off the case but his superior and friend D.I Trevor Joseph knows that he will continue to investigate in his own time. He therefore has to work the case at the same time as trying to keep his friend out of trouble.
I really enjoyed this story and thought the identity of the murderer was extremely clever. I love the way the author merges the police case with the personal lives of the main characters. I look forward to the next in the series.
10 August 2013
it was the title of the book that made me buy it because I was having one of these moments when you do not know what to read and what a brilliant book……. I changed my mind all the way thought the book [ as in who did it…??] it the first [trevor joseph detective series] I have read so now I am going back to find the other books I know I am in for many hours of happy reading……… well done kathrine john you have made a follower of your book out of me , in this book every one as a reason not to like this neighbour……. so if you like a good who did it murder read this…….
---
The Vanished – Book Seven in the Trevor Joseph series click on jacket for Amazon kindle page #ad
The breathtaking new thriller by acclaimed author Katherine John. Following a high-profile historical child abuse trial centred around Hill House orphanage, a set of human body parts appears overnight, hung on the derelict building's gates. Is the macabre display a horrific joke, or is there an even more sinister force at work?  The abandoned orphanage set on a barren hillside in a remote part of Wales, has brooded over its secrets for over a century. Were the children who were last seen in Hill House adopted as the authorities claim, or victims of unspeakable evil?
Chief Inspector Trevor Joseph and his team find themselves hounded by a headline-hungry press, and their own superiors who are under orders to close the case at all costs to limit scandal. Against advice they struggle to find the evidence they need to prove or disprove the sickening rumours. But do they have the courage to fight for justice when they face threats that not only jeopardise their careers but their lives?
Book jacket by steve@bookcovers.uk
REVIEWS – THE VANISHED
8 January 2017
Format: Kindle Edition
Verified Purchase
Have read all the Joseph and Collins series and they are a really good read. Well defined and interesting characters, excellent plot lines, very hard to put down. I think her books just get better and better, hope it's not too long before the next is published
One person found this helpful 
8 January 2017
Format: Kindle Edition
Verified Purchase
Another great book from this author. I love the characters Trevor Joseph and Peter Collins. Hope there's another book soon
The Corpse's Tale – Quick Read in the Trevor Joseph series (Quick Reads) – click on jacket for Amazon page #ad
KINDLE AND PAPERBACK EDITIONs – Dai Morgan has the body of a man and the mind of a child. He lived with his mother in the Mid Wales village of Llan, next door to bright, beautiful 19 year old Anna Harris. The vicar found Anna's naked, battered body in the churchyard one morning. The police discovered Anna's bloodstained earring in Dai's pocket. The judge gave Dai life. After ten years in gaol Dai appealed against his sentence and was freed. Sergeants Trevor Joseph and Peter Collins are sent to Llan to reopen the case. But the villagers refuse to believe Dai innocent. The Llan police do not make mistakes or allow murderers to walk free. Do they?
20 February 2014
Format: Kindle Edition
Verified Purchase
This review is really for all of the Katherine John books. Well written with solid, believeable characters who have grown and developed s each book unfolds. I did read some out of synch but that doesn't distract too much. Very good plot build up that remains realistic throughout. I am so pleased that i discovered this author and hxve recommended her onto friends who are Lynda Le Plant devotees, eho have also enjoyed her. As all the ads say, "buy with confidence" 
19 September 2013
start with the first Trevor Joseph and i guarantee that you will download them all, fantastic author,an absolutely un-put-downable book
---