Beggars and Choosers – Book One in the Brothers and Lovers series is set at a time of social unrest that resulted in the Tonypandy Riots, when the government of the day feared (with good reason) a Marxist Red Revolution  in the Rhondda similar to the one that rocked Russia six short years later in 1917. 
'I warn you, and it is a solemn warning. Leave me, and you – and who ever you run to – will suffer. I have a husband's rights under God's law: "and those whom God has joined together let no man break asunder."'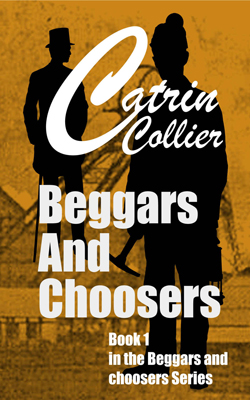 In Pontypridd and the Rhondda in 1905 coal is king and the families who sunk the first collieries are rich. None is wealthier or more generous a benefactor than Harry Watkin Jones. At 20, his daughter, Sali Watkin Jones is about to marry her childhood sweetheart, Mansel, a young and successful businessman, in Pontypridd's wedding of the year. But as tragedy follows tragedy, four short  traumatic years later Sali is a penniless outcast fleeing from a violent husband,  struggling to support herself and her son in a world very different to the one in which she was brought up. She finds work in the home of a family of colliers who offer her and her son the warmth and love missing from their lives. As the miners' wages are eroded by the greed of the companies that have replaced private owners, unrest and violence blight the valleys. Caught in the conflict, Sali finds herself denying her roots, her class and even sacrificing her son's future for the sake of the people she loves and the cause they are prepared to die for.
Strike Parade during the long days of picketing the strikers devised all sorts of parades and carnivals to entertain their families. Among the fancy dress in the photograph is a recognisable Charlie Chaplin and Little Titch
---
Winners and Losers – Book Two in the Brothers and Lovers series
Megan Williams is eighteen and in love with the boy next door, Victor Evans. It is 1910 and, in the Rhondda Valley, poverty and hardship exact a toll as troops are brought in to control the striking miners. The only work Megan can find is in a house where the police and soldiers lodge, but she is shunned by friends and neighbours, who believe she has betrayed her class by working for the enemy.
Megan's father would rather see his daughter dead than married to a Catholic, particularly one whose father and brother are marked as strike ringleaders. Caught in the middle, Victor and Megan find themselves fighting for the right to love one another, remain together and build a future they can share.
---
---
Sinners and Shadows – Book Three in the Brothers and Lovers series
Orphaned at eight, raised by a brutal, sadistic brother, nineteen-year-old parlour maid, Rhian, dreams of a man who will love her and give her a family of her own. An invitation to join the Evans family on New Year's Eve 1913, throws her life into turmoil when the youngest Evans' brother, Joey, confesses he loves her. Handsome, charming Joey has never met a woman who could refuse him anything. But Rhian is suspicious of his reputation as a ladies' man. It takes time, tenderness and persistence to win her trust. Just as she finally admits she loves him as he does her, Joey's past overshadows and shatters their happiness. Unable to separate truth from lies, wanting to hurt Joey as deeply as he has her, Rhian turns to her employer, Edward Larch. Unhappily married, Edward offers her the only position he can, that of his mistress. Her choice is irrevocable – to forgo love, 'respectability' and all chance of a family life for financial security. Then Europe is plunged into war. But Rhian cannot stop thinking about the man she loved who betrayed her – and the problems peace will bring.
---
---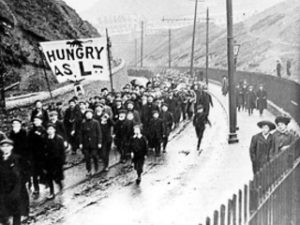 Hunger march. During both the 1911 and 1926 strikes, Rhondda miners walked as far afield as Cornwall and London (where Paul Robeson heard them singing in the street and left the theatre he was performing in to meet them) to publicise their grievances and demands for a fair wage 
---
Finders & Keepers – Book Four in the Brothers and Lovers series
Harry Evans's first years of life were blighted by a brutal stepfather. At the age of five his mother, Sali, married a miner, Lloyd Evans, a passionate believer in workers' rights. When he returns to Pontypridd after school, he finds that his beloved "grandfather," ex-miner Billy Evans, has lung disease, and when Billy is sent to Craig y Nos sanatorium in the Welsh Hills, the only person in the family free to accompany him is Harry. There Harry meets two very different women: Diana, a feminist medical student, and Mary, an illiterate, orphaned farmer's daughter. For the first time in his life Harry falls in love, only to suffer rejection. Harry turns to Billy for consolation, and as his relationship with the old man deepens, he learns about life, love, and the responsibility that comes with inherited wealth. But he also discovers the responsibility each man owes to himself to live his life as he, and no one else, sees fit.
---
Like many of my books the Beggars and Choosers series was the result of a conversation with an editor. After, trying and failing to sell a new series based on the early twentieth film business in Wales, I suggested a series based at the time of the riots. My editor loved the idea. it was only when I caught the train back to Wales from London I realised – I knew nothing about the riots. Now and I bow to the courage of the miners who fought the establishment with the only weapon available to them at the time, the withdrawal of their labour
DAVID JOHN 1868 – 1901 OF COURT STREET TONYPANDY, BORN IN GILFACH GOCH,
The above photograph inspired me to write these books. My great grandfather David John was killed in a pit accident in 1901 at the age of 33, leaving his widow, Mary (Polly) with 4 children under 10 including my grandmother Katherine (Kitty John who later married a Tonypandy miner). Mary survived and kept herself and her family by running a boarding house for miners. If David John had lived I have no doubt he would have been in forefront of the 1911 strikers as my grandfather Harri Glyndwr Jones was in the 1926 strike.
---
Tiger Bay Blues – Book Five in the Brothers and Lovers series
Pontypridd 1930. At eighteen Edyth is the 'plain, intelligent' one of Harry and Sali Evans's five daughters, until a chance meeting with handsome curate Peter Slater throws her life into turmoil. Head over heels in love, she sacrifices her own ambitions of a college education and career, and defies her parents' opposition to help Peter realise his dream of running his own parish. The church sends Peter to Butetown, a dockland area of Cardiff, commonly known as Tiger Bay. There Edyth and Peter encounter rich cultures from all corners of the world, cultures that flourish despite desperate poverty and the Depression. It is a society where creed, language and skin colour of skin are irrelevant  – provided the borders that separate Tiger Bay from the city aren't crossed. Then Edyth discovers exactly why her parents were so opposed to her marriage. Peter has a dark secret that has not only blighted his life but also hers. A secret that threatens to destroy her love and, ultimately their marriage.
---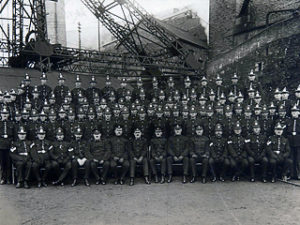 Police force stationed in Tonypandy to police the strike. They "camped out" in among other places, the Roller skating rink
---
Tiger Ragtime – Book Six in the Brothers and Lovers series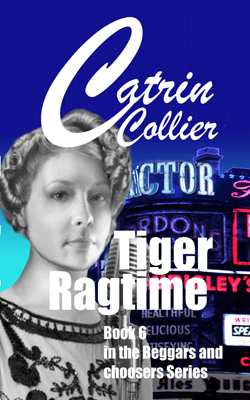 Judy Hamilton was born in the Cardiff docklands. Homeless after the death of her grandmother, she finds friendship, work and lodgings with Edyth Slater, above her bakery in Cardiff's colourful Tiger Bay. While attempting to make her way in a vibrant and complex society, Judy dreams of one day becoming a successful singer and actress.
Restless and anxious to make his fortune, David Ellis leaves his brothers and sisters behind him on their isolated Breconshire farm. He is ready to embark on a new, more exciting life and is willing to do whatever it takes to find success.
The enterprising natives of Tiger Bay manage to make a living from those rich enough to remain unscathed by the depression of the 1930s. Flouting the law, they open illegal casinos and nightclubs to cater for those who can still afford a good time. None are more ruthless than Aled James. With Aled's help, Judy finally breaks into the glittering paste and cardboard world of the city's nightclubs and theatres, but Aled demands a high price for his assistance. David and Judy soon discover that even with a pocketful of money, the life they'd dreamed about may come at too high a price…
---
---
'Meticulously-researched…warming the hearts of millions of readers.' – Historical Novels Review
'Collier has a gift for bringing her characters to life that will keep the reader engrossed until the end' – Daily Mail
'A new Saga Queen hits the televisual cobbles' – Daily Telegraph