Hello, welcome and thank you for calling in to my new website where you will find information on all my Catrin Collier historical novels, Katherine John crime books and film projects as well as the research, stories and old photographs that inspired me.
---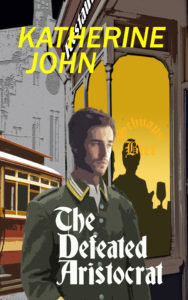 GIVEAWAY – KATHERINE'S JOHN'S the full Kindle edition of the THE DEFEATED ARISTOCRAT
will be free to download on Saturday 14th September and Sunday 15th of September 2019. This was written as the first in a new series of books set in Konigsberg from 1918 – 1939 charting the rise of the Nazis through the eyes of a senior police officer in the capitol city of East Prussia. If you download the book and read it, I would love to hear your opinion of the book. A truthful  review on Amazon would be very much appreciated. A word of warning – it is dark and gruesome in places.
My absolute best days are the ones when I hear from a reader
"Wow I have just finished Hearts of Gold by @catrincollier!! To read a book set in the town I live in was so good!! Something I have been craving for ages. The characters and story was amazing!! Mel (@mehy14)"
Thank you, Mel.
My new novel, Glyndwr, which has taken me two years to research and write has been pre-launched on Amazon and is now available on kindle and as a paperback novel. A right click on the jackets will take you to the Amazon sites and more information about this project will be announced shortly.
| | |
| --- | --- |
| Amazon kindle edition | Paperback version |
This site has been expertly and beautifully constructed by the talented designer/s @ Web Design Wales.  At the moment it is an ongoing project which will allow for time for all of my books to be re-jacketed by the brilliant steve@ebookcovers.uk.  As a result some of my books still have temporary jackets, but given the quality of Steve's work I think you will agree the results are well worth the wait. Thank you for your patience.
To contact me, please e-mail – catrincollier@aol.com
or for crime relate books – Katherinejohn@aol.com
---
Events
FREE WORKSHOPS SCRIPTS AND FILMS
Date And Time Tue, 24 September 2019 10:00 – 11:00 BST
Location 
Gwyn Hall 
Orchard Street 
Neath 
SA11 1DU
WIFF WORKSHOP 6 – BOOK TO SCREENPLAY – Katherine John
Thursday, 10th Oct at 19:00 I'll be speaking in Llantrisant
Check out my blog on the 'Random Thoughts' page, which will be updated over time.
---